About Supacats
What is a Supacat?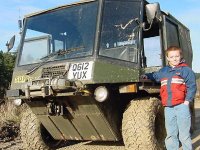 The Supacat is a hard vehicle to classify.

Contrary to public opinion the 'civilian' and 'military' specification Cats are very much the same - the only difference being the equipment fitted to them. Many of the 'extras' used are common to both, and most Cats are used with items such as Ramps, Winches, Bilge Pumps. Most are open top but some do have cabs of varying types. A wide range of extras is available to enable the vehicle to be suited to any specific application.
What it isn't
A Supacat could be described as the big end of more conventional ATVs were it not for its automobile engine (Volkswagen 1.9L diesel) and 4-wheel steering.

Supacat might be a 6x6, low ground-pressure 'jeep' were it not for the motorcycle/ATV-type handlebar steering.

Hard as it is to categorise, the usefulness of this 6 x 6 amphibian is beyond doubt.
Five facts about the Supacat
Supacats are made in Britain but in use worldwide.
Supacats are used for Air Crash Recovery - to recover many aircraft types from small light single seaters, helicopters to a Jumbo jet.
A special unit was built for Beach Rescue -fitted with special lightweight cab, high side panels, special high visibility paint, outboard motor stowage.
Supacats have been used on many Film and TV Sets both in the UK and overseas, transporting personnel, lighting, set equipment and sometimes used as camera platforms. Sometimes they are even seen in front of the camera!
The Canadian Forces' Mobile Command began testing the Supacat in 1989 and a small number were bought to equip the Disaster Assistance and Relief Team (DART) in time of emergency. The first deployment for CF Supacats was in 1998 to Honduras in the wake of Hurricane Mitch.
And there's more...
Supacats are used within the Forestry Industry for various tasks including fire fighting.
A specially developed Cat went to Ecuador for timber extraction work and also transported a mobile sawmill in jungle areas.
A Supacat has had a backhoe fitted for use in Scotland on difficult terrain.
Indonesia - a Supacat was sold to operate as a rescue unit in case of a volcanic disaster.
The Supacat can be transported inside of a helicopter.
The British Airborne use a SupaCat all-terrain vehicle (ATV) with a forklift to pick up and move dropped containers away from the open drop zone.
Specification

Engine
Volkswagen 1900cc turbo charged
Power
58 Kw (78 bhp) @ 4000 rpm
Max torque
164 Nm 121 (lbs./ft) @ 1850 rpm
Max engine speed
5200 rpm
Gearbox
VW Audi Automatic Four forward one reverse
Drive trains
1" pitch duplex - tensioned by sliding axles
Electrical power
12 or 24 volt - 2 maintenance free batteries
Tyres
Standard size - 31 x 15.5 x 15
Fuel capacity
63.6 litres (14 gallons)
Dimensions
Overall length 3335mm (minimum)
Overall width
2000mm (wheel to wheel)
Maximum height
1870mm (open vehicle)
Load area - main
1445 x 1870mm
Ground clearance
215mm (standard wheels)
Weight
Basic Supacat 1750Kgs
Maximum speed
64 kph (40 mph)
Payload
1.0 tonne (normal) 1.6 tonnes (maximum)
Towing capability
Approximately 2.4 tonnes of drawbar pull
Turning diameter
Conventional 14.35m; Braked 4.8m
For the Technical
The Supacat has permanent six wheel drive (6x6) with the front four wheels (two axles) steered conventionally (Ackerman) by using a rotating handlebar arrangement. These handlebars also operate the steering brakes (inboard discs) which act independently on each side of the vehicle giving brake (skid) steering.
The Supacat is diesel powered and driven through a four forward and one reverse ratio automatic gearbox. The Supacat is built around an aluminium clad, steel rectangular hollow section chassis fame, which forms a hull that enables the vehicle to float and also protects the majority of mechanical components.The 'belly plate' is of hardened aluminium and can have a steel protective front plate.
Supacat Experiences
More information
Get full details from the Supacat website.