About Karting
The thrill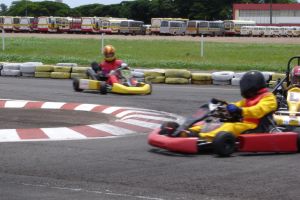 The first time you drive a racing kart you are guaranteed exhilaration like no other! How ever many cars you have driven nothing will beat the adrenalin rush of buzzing along at 60mph or more just five centimetres off the ground! The karts have spine-tingling acceleration and you will need to keep your wits about you at all times.
Many drivers who start karting with the intention of moving onto bigger and better things often end up staying because they enjoy it so much!
Indoor Karting
With so many circuits around the UK this is where most people will get their first taste of Karting. The speed of karts on most indoor tracks is probably limited to 30-40mph, which still feels pretty fast when just a few inches from the ground. Indoor karts are generally designed for running on smooth indoor tracks and have hard rubber tyres. Combined with a slippery surface this guarantees lots of slipping sideways making for an exciting if not very high speed experience.
Outdoor Karting
This is where the excitement really starts with outdoor karts doing speeds upwards of 50mph and an outdoor karting session will be a lot more like real racing! All major karting competitions can be found on outdoor tracks. This is where the real challenges are. Outdoor circuits are divided into short and long circuits.
Types of events
Sprint
These usually consist of a short race of maybe 6 or 8 preliminary heats, followed by a longer final.

Endurance Events
Longer races usually in a team –based format, with a designated number of drivers per team. The emphasis in these races is on consistency rather than just speed and more strategy is required to determine number and timings of pit stops.

Arrive and Drive
When these were introduced they were the first events that enabled non-licence holders the chance to control powerful race karts on outdoor circuits. They are almost always single make competitions – the idea being that the karts would all be similar and therefore the race was a test of driver ability.
Karting Experiences
Take part in a Karting experience