About Formula Ford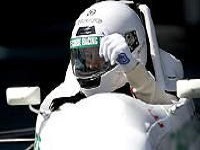 The UK Formula Ford Championship is in 2006 entering its 39th consecutive year of operation. The drivers who have started their car racing careers reads like a who's who of motorsport. This heritage is what makes Formula Ford such an incredible championship to take part in. Nothing is a certainty in motorsport, but it always has been and always will be a good bet that any driver who excels in UK Formula Ford is on their way to great things in their driving career.

The strictly enforced technical regulations are one of the mainstays of the Championship over the years. Ford Motor Company are behind these regulations, with staff at Boreham, and now the Dunton Research Centre writing and updating these, and providing the vital expertise of the Championship Scrutineer and Electronics Experts.

Formula One World Champions
James Hunt
Emerson Fittipaldi
Jody Scheckter
Ayrton Senna
Nigel Mansell
Damon Hill
Mika Hakkinen
Michael Schumacher
Formula One Drivers
Michael Schumacher
Rubens Barrichello
Eddie Irvine
Heinz Harold Frentzen
Anthony Davidson
Jenson Button
David Coulthard
Mark Webber
Allan McNish
Mika Salo
Nick Heidfeld
Kimi Raikkonen
Pedro de la Rosa
J J Lehto

By allowing freedom of chassis design, engine build and numerous technical items of specification on the car, this drives the technical standards to exceptionally high levels from both teams and drivers. This engineering freedom is the reason that drivers leave the series with exceptional levels of understanding of car set up and the implications of each chassis variation they try. This tends to be the reason that their careers progress so far thereafter. If you are serious about your driving career, missing the crucial learning experience that Formula Ford provides might just be the biggest mistake you make.

Formula Ford's continuing resistance to wings and their resulting downforce allows drivers the only chance in their careers to master the mechanical grip that a car and tyre will produce when driven and set up properly. If a driver misses this crucial stage of learning (such as by choosing a one-make junior series with aerodynamic downforce), then they may never get a chance to regain this critical learning.

Two of Formula Fords top drivers from last year - Charlie Kimball and Dan Clarke - have moved up from Formula Ford to Formula Three. Both achieved race wins in the first 6 months of their debut season in this highly competitive environment! There is no better testimonial for aspiring drivers considering their choice of single-seater championship than to look ahead at the next step on the ladder - Formula Three. It is no secret around UK paddocks that Formula Three team managers respect the development that Formula Ford gives its drivers over that offered by rival one-make, winged racing cars.

The list of Formula One drivers who launched their car racing careers with Formula Ford reads like a who's who in Motorsport.

Driving Formula Ford
Get in a Formula Ford driving seat today !
More information
For more information visit the Formula Ford website.